By Rachel Schraer
Health reporter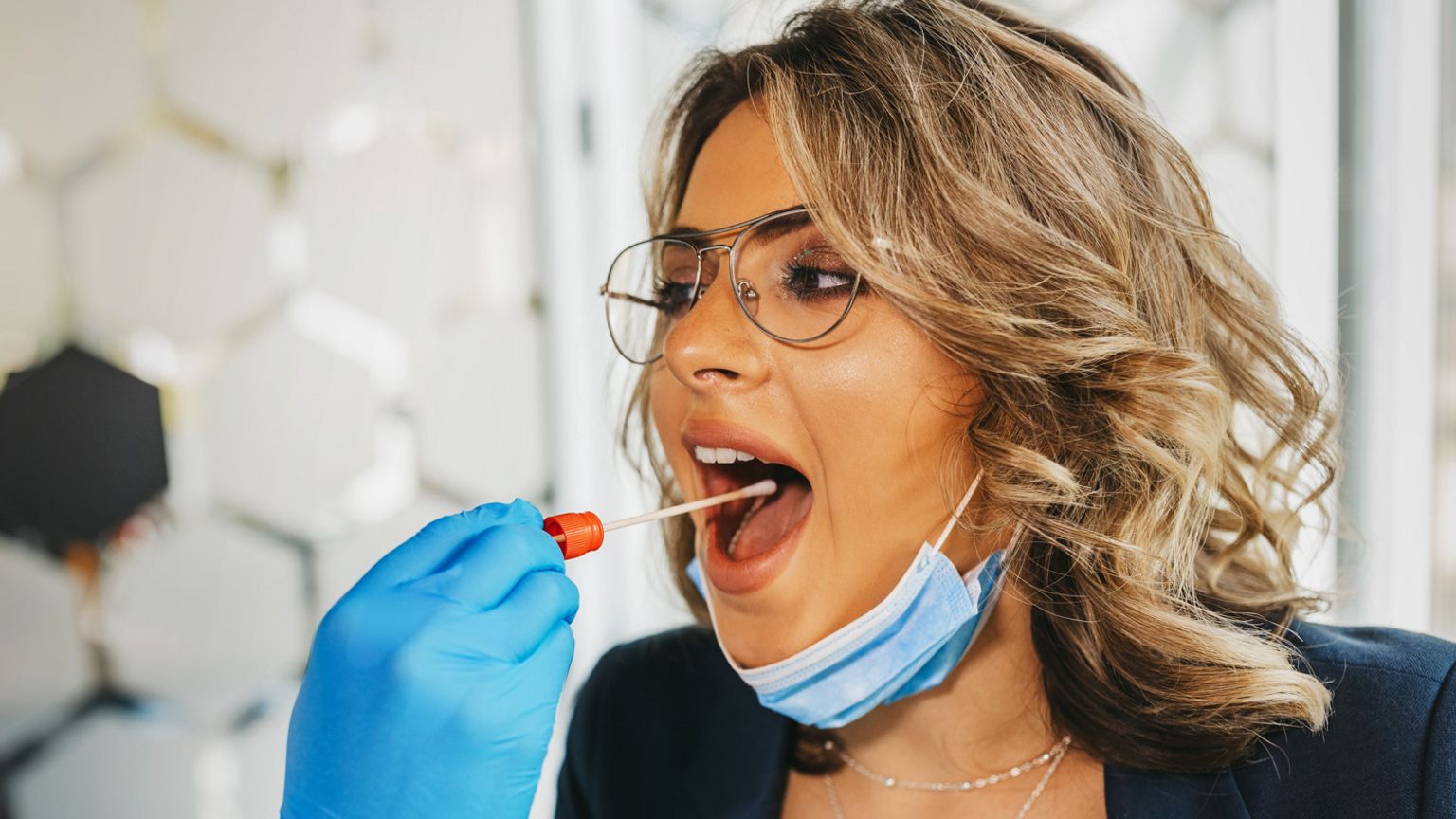 As the UK begins to ease out of lockdown, testing and tracing will once again become key to controlling the spread of Covid-19.
People with symptoms have been able to get tested since last April, but the government hopes regular testing of people without symptoms will also help stop infections from increasing.
When should I get tested?
Testing people, telling those infected to isolate, and then tracing their contacts are vital to stop the disease from spreading.
You should seek an NHS test – one that has to be sent off to a lab – if you show one of three key symptoms:
a fever
a new continuous cough
a loss of smell or taste
Some have suggested a wider group of relevant symptoms including fatigue, diarrhoea, headache and a sore throat should trigger a test – but, for now, the government is sticking to the three main ones.
Testing involves a swab up the nose and down the back of the throat.
Can I get tested if I don't have symptoms?
Many local councils are running testing centres for people without symptoms, often in town halls and community centres.
These centres use rapid or "lateral flow" tests, which give a result in about 15-30 minutes.
With these tests you still have to swab the nose and throat, but the swab is dipped in a fluid which is then dropped onto a plastic device. It's a little bit like a pregnancy test.
One line will appear on a paper strip showing the test has worked, a second line will show if you have the virus.
Some workplaces are also offering regular testing, once or twice a week, for employees who can't work at home.
There are also plans for schools to regularly test teachers and pupils to spot infections before they can spread too far.
How to get tested
Go online, or call 119, before going to a drive-through or walk-through testing site – or a mobile testing unit
Order a home testing kit in the first four days of having symptoms
If you don't have symptoms, search online or ask your local council to see if they are offering asymptomatic testing
What are the different types of test?
The PCR (polymerase chain reaction) test identifies whether you're currently infected.
In most cases, a nose and throat swab is taken and sent to a lab for processing.
There are also rapid turnaround versions of these tests, mostly available in hospitals.
"Lateral flow" tests – which were used in a Liverpool pilot – are now more widely available. They involve a handheld kit that gives a result within 30 minutes.
These are less sensitive and will miss more cases of the virus, especially in people with mild infections. But they're good at spotting the majority of the most infectious cases.
Lateral flow kits are extremely valuable in areas far from big labs. But until recently they haven't been seen as a key part of the UK's testing strategy.
As well as tests to check for the virus, there are also blood tests to look for antibodies which indicate past, rather than current, infection.
Currently, they're mainly being used by scientists to estimate what percentage of the population has had Covid, rather than to diagnose individuals.
How reliable are tests?
This can be because the swab sample wasn't good enough, there were problems in the lab, or because of the stage of infection the patient was at when tested.
More rapid tests pick up between 40% and 80% of the cases that would be found by PCR.
Is the testing system coping with demand?
The testing system experienced plenty of well-publicised problems early on.
People struggled to get appointments and some could only book tests many miles from home.
But the system is running much better now and coping with demand. There's even spare capacity.
A total of 560,400 tests were processed on 19 February. The government says capacity is nearly 800,000.
What about private testing?
Some clinics and health centres offer private testing.
Prices vary, but are often about £100-£200 for a swab test to show if you're currently infected – or £50-£100 for an antibody test to show if you've had Covid in the past.
Tests must have a "CE mark" to show they meet all legal criteria.
If you test positive, the test supplier must let your local health authority know so it can trace outbreaks.

What do I need to know about the coronavirus?