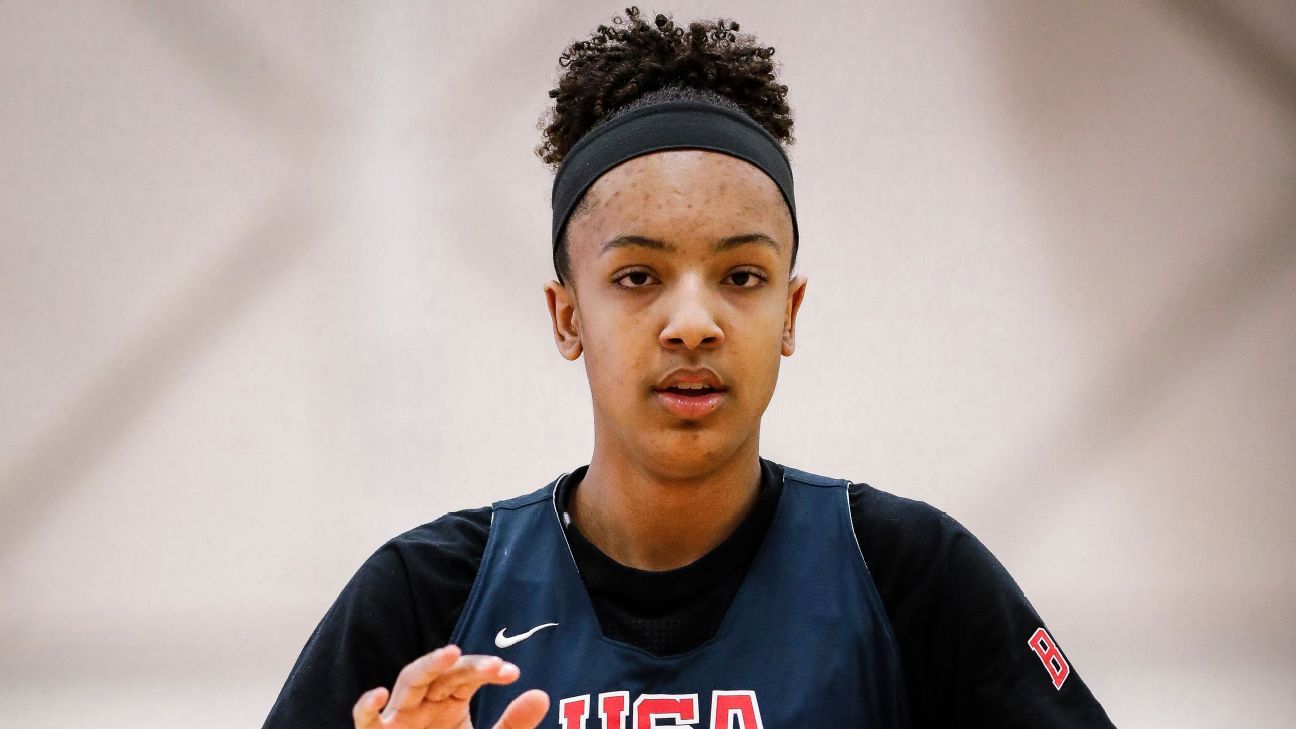 Limited scheduling freedoms, the lack of nationwide tournaments and abbreviated schedules amid the COVID-19 pandemic impacted the espnW Top 25 Power Rankings.
Some states, like California, New Mexico, Oregon and Washington, have not started play and, thus, were not considered for this update. Other states, like Indiana, Georgia, Florida and Texas, are entering their respective postseasons.
Hopkins (MN) remains at the top spot thanks to its deep roster. The Royals have at least six Division I prospects getting major minutes right now, led by Maya Nnaji, the seventh-ranked prospect in the Class of 2022 who is averaging 21 points and eight rebounds per game. She is joined by top-100 junior Amaya Battle, who averages 13.3 points and 5.7 assists, and top-25 sophomore Taylor Woodson, who averages 15.6 points and nine rebounds.
Duke signee Lee Volker and unsigned senior guard Bella Perkins helped lead fifth-ranked Paul VI (VA) to a quality win over Azzi Fudd's 11th-ranked St. John's College High School (DC) squad. Also in the DMV area, Bishop McNamara (MD) is in the top 10 with a roster that features Michigan signee Taylor Gibson, top-100 juniors Yonta Vaughn and Gia Cooke, 12th-ranked sophomore Sahnya Jah and highly touted freshman Madison McDaniel.
There are four New Jersey teams in the espnW 25 Power Rankings. Aalyah Del Rosario, the second-ranked sophomore in the country, Angelica Velez, the No. 23 sophomore, and sophomore riser Zoe Brooks have led No. 12-ranked Trenton Catholic. Junior Madison St. Rose, a 2022 prospect who committed to Princeton, headlines No. 18 St. John-Vianney.
No. 19 Red Bank Catholic has a balanced squad with Fordham signee Sophia Sabino, Tennessee commit F Justine Pissott and four-star post Ally Carman, a Boston College commit. Rutgers Prep has Villanova signee Christina Dalce and rising freshman Mikayla Blakes, who is already establishing a reputation as a big-time recruit.
The battle for the top spot in Texas is a tight one, but Cypress Creek continues to stay undefeated at 27-0 and is unlikely to see a real challenge in the Houston Area. The duo of 2021 top-25 guards Rori Harmon and Kyndall Hunter will both suit up for the Texas Longhorns next season. DeSoto, ranked eighth, ended its regular season at 20-2 (with one intentional forfeit).
Here is the full top 25:
1. Hopkins High School (Minnetonka, MN), 8-0
2. Westlake High School (Atlanta, GA), 15-0
3. Lake Highland Prep (Orlando, FL), 15-0
4. Montverde Academy (Montverde, FL), 20-1
5. Paul VI (Chantilly, VA), 10-0
6. Cypress Creek High School (Houston, TX), 27-0
7. Bishop McNamara (Forestville, MD), 3-1
8. DeSoto High School (DeSoto, TX), 20-2
9. Mt. Notre Dame (Cincinnati, OH), 20-0
10. Winston Salem Christian (Winston-Salem, NC), 21-0
11. St. John's College High School (Washington, D.C.), 1-1
12. Trenton Catholic (Trenton, NJ), 6-0
13. Edison Academy (Detroit, MI), 2-0
14. Grandview High School (Aurora, CO), 6-0
15. Fremont High School (Plain City, UT), 20-0
16. New Hope Academy (Landover Hills, MD), 5-3
17. Duncanville High School (Duncanville, TX), 24-2
18. St. John-Vianney (Holmdel, NJ), 5-0
19. Red Bank Catholic (Red Bank, NJ), 4-0
20. Princess Anne (Virginia Beach, VA), 8-0
21. Norman High School (Norman, OK), 13-0
22. Incarnate Word Academy (St. Louis, MO), 18-0
23. Rutgers Prep (Somerset, NJ), 5-0
24. Archbishop Wood (Warminster, PA), 3-0
25. Newark High School (Newark, OH), 21-1
Also considered: Ensworth High School (TN), Chaska (MN), Sioux Falls Washington High School (SD), Classen SAS (OK), Valley Vista High School (AZ), Cardinal Newman (SC), Converse Judson (TX), Hoover High School (AL), American Heritage (FL), North Central High School (IN), Mater Dei (CA) and Archbishop Mitty (CA)